BACK TO PRODUCTS PAGE
5th Gen Camaro Console 4-Pack Replacement Face Set
Standard face colors are white, black or silver. The faces will light up the factory color. Prices listed are for the gauge face set only - the center console 4-pack cluster is not included. When ordering a white or silver face, the numbers and markings will have black outlines.
We
do not
have a replacement speedometer face available for the 5th Gen Camaro.
---
Upgrade to a Pearl Color Finish or Carbon Fiber Design for an additional $15.00 -
click here for options
!
---
2009-2015 5th Gen Camaro Console 4-Pack Replacement Face Set - $49.00 USD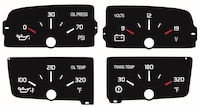 Shown in Black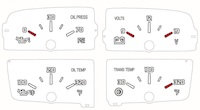 Shown in White
---
2009-2015 5th Gen Camaro Console 4-Pack Replacement Face Set - Metric - $49.00 USD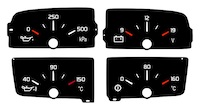 Shown in Black
---