BACK TO PRODUCTS PAGE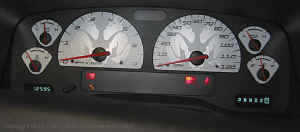 2001 DURANGO CUSTOM Shown
Standard gauge face colors for the Dodge Durango are white, silver or black. The standard lighting colors are red, light blue, green, and yellow. For custom designs call 1-866-943-8641. Prices listed are for the gauge face only - cluster is not included. When ordering a white or silver face, the daytime color of the numbers and markings will match your lighting color choice. Available Logos shown at the bottom of the page.
---
2001-2003 Dodge Durango Face mph $115.00 USD

---
2001-2003 Dodge Durango Gauge Face Sport Style mph $115.00 USD

---
2001-2003 Dodge Durango Edge Style Face mph $115.00 USD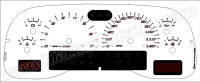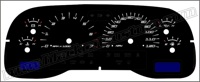 ---
1998-2003 Dodge Durango LED Kit $45.00 USD

Upgrade your lighting with this LED Lighting Kit. This LED Kit is an easy plug-in installation, no soldering required. Color options are blue, white and red. This LED Kit for the 98-03 Dodge Durango requires a Black Cat Custom gauge face. Kit will not work with the stock gauge face. Gauge face not included! Note: When ordering the LED kit along with our gauge face, the LED Lighting Kit color you choose will replace your lighting color choice for the gauge face. Your gauge face will be made to optimize your LED color choice.
---
2001-2003 Dodge Durango Gauge Face C-Style & LED Lighting Upgrade Kit mph $160.00 USD

Gauge face will be as shown. Choose either white or blue LED lighting. LED Lighting Upgrade Kit is included.
---
1999-2000 Dodge Durango Face mph $115.00 USD
For the 1999-2000 Durango there may be several minor variations depending on the options that your truck came with. Please contact us if your stock gauge face layout has any variation from the picture shown below..

---
Available Logos
Note: There is a light box in the center of the tach that is used only in applications where there is an upshift light. For the logo in the tach to light up properly, the light box needs to be trimmed out. The lightbox can be left in, however, there will be a dark spot in the center of the logo when the lights are on. Please feel free to contact us if you have any questions.

- Dodge

- Durango

- Mopar M

- R/T

- Ram Head

My Text will be positioned in the Speedometer.
My Text is your personal logo up to 10 characters. Quotation marks are not printed. If you choose the My Text logo, enter your text in the text box. The font will be the same font that is used in the gauge face layout. The color will be the same color as the numbers and markings on the gauge face.