BACK TO PRODUCTS PAGE
2005-2005 Nissan Altima
Standard gauge face colors for the Altima are black, white or silver. The standard lighting color is neutral - this will work with any color of LED. For custom designs call 1-866-943-8641. Prices listed are for the gauge face only - cluster is not included.
---
Upgrade to a Pearl Color Finish or Carbon Fiber Design for an additional $15.00 -
click here for options
!
---
2005-2006 Altima LED Lighting Kit - $34.00 USD
Upgrade your lighting with our LED Lighting Kit. The Kit includes the LED's for the main gauge cluster along with instructions for installing the LED's in your cluster. Color options are blue, red or white. The LED Lighting Upgrade installation requires intricate soldering skills and additional disassembly as compared to the gauge face only install. If you do not know how to solder, any qualified electronics repair shop should be able to solder the LED's following the instructions included. This LED upgrade will not work with the stock gauge face and requires a Black Cat Custom Gauge Face.
Gauge face not included!
---
2005-2006 Nissan Altima Gauge Face - 140mph $109.00 USD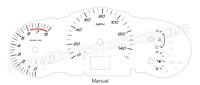 Manual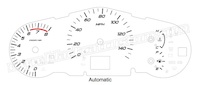 Auto
---
2005-2006 Nissan Altima Gauge Face - 160mph $109.00 USD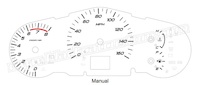 Manual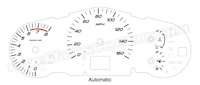 Auto
---
Available Logos


My Text is your personal logo up to 10 characters. Quotation marks are not printed. If you choose the My Text, enter your text in the text box. The font will be the same font that is used in the gauge face layout. The color will be the same color as the numbers and markings on the gauge face.
---